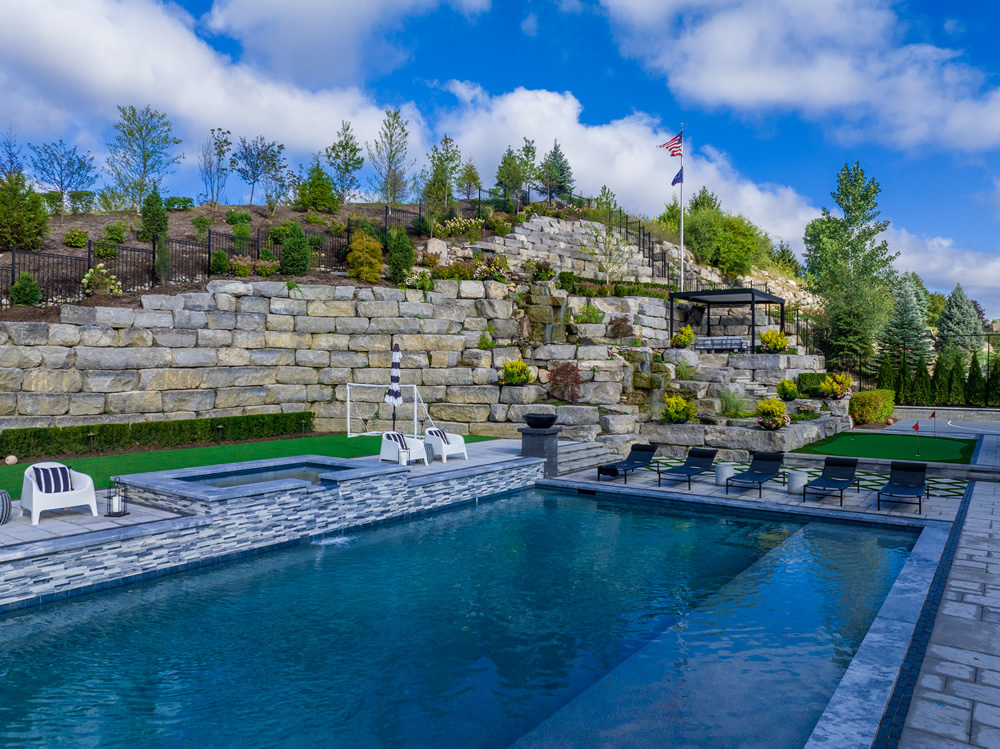 LUXURY CUSTOM SWIMMING POOLS – OAKLAND COUNTY, MI
Imagine you enter your beautiful backyard and feel the sun on your skin. You take in the stunning sight that is before you. You will find a luxurious pool that has been elegantly designed. This oasis is much more than a pool. It's an expression of your refined taste and a testament to the luxurious lifestyle you have worked so hard to attain. Welcome to the world of luxury pool living.
Oakland County, located in the middle of Michigan, is known for its vibrant communities and wealthy neighborhoods. This region, which includes Bloomfield, Bloomfield Hills, West Bloomfield, Troy, Oakland Township, Rochester, and Rochester Hills, to the charming streets in Birmingham, is known for its beautiful homes and luxurious living. What better way to enhance the appeal of these stunning residences than by adding a luxury pool?
Luxury pools go beyond the limits of traditional swimming areas. A luxury pool is an oasis of calm, a place to entertain, and a work of art all in one. No wonder discerning homeowners from Oakland County know the value and appeal a luxury pool with a high-quality design and construction can add to their property.
Here's the truth: not all pool builders were created equal. Choosing the best luxury pool builder requires research and careful consideration. Your pool is not just an amenity; it's a valuable investment that will enhance your lifestyle and the value of your property. We can help.
Join us as we explore the world of luxury swimming pool construction in Oakland County. Prepare to be educated and inspired to realize your dream of having a magnificent pool. Let's jump in together!
The Benefits of a Luxury Pool
Few additions can match the grandeur and allure of a luxurious pool when creating a backyard oasis. Oakland County is not unfamiliar with these luxurious aquatic retreats' opulent appeal and benefits. This article explores the benefits of owning a rich pool, from elevating your lifestyle to increasing the value of your home.
Enhancing lifestyle – Creating a Private Retreat for Relaxation and Enjoyment
Imagine walking into your backyard and being greeted with the soothing sounds of cascading waterfalls and the soft glow from ambient lighting. Luxury pools are more than just swimming areas. They're a private oasis where entertainment and relaxation seamlessly merge. Luxury pools are designed with carefully selected features and elements. They offer a place to relax after a hard day or host unforgettable events for loved ones.
These pools have been designed with great attention to detail, from the sleek infinity edge that gives the illusion of merging into the horizon to the integrated seating areas and customized water features. These pools are the perfect place to relax, whether for a relaxing afternoon, a morning swim or an evening cocktail party. The possibilities are endless, with a luxury swimming pool in your backyard.
Adding Value to your Property: Luxury Pools are a Central Selling Point
Luxury pools can have a significant impact on your home's value. A well-designed, expertly built pool can make a massive difference in the competitive Oakland County real estate market. Many studies have shown how luxury pools can significantly increase homes' market value and appeal in upscale neighborhoods.
It is a feature that will set your property apart. The pool adds a touch of sophistication and luxury, appealing to homebuyers looking for a luxurious lifestyle. A well-designed pool can increase the value of your house and possibly fetch a higher price when you decide to sell it.
The Benefits of Swimming for Health and Well-being
Swimming offers many health and wellbeing benefits. Luxury pools are the ideal place to enjoy low-impact workouts, which improve cardiovascular fitness and muscle strength. They also enhance flexibility. Swimming is an excellent option for people of all fitness levels and ages because the water's buoyancy helps reduce stress on muscles and joints.
The therapeutic benefits of water are also not to be underestimated. A luxury pool can reduce stress, relieve joint pain and promote well-being. With advanced features like spa jets, hydrotherapy options, and temperature-controlled pools, homeowners can create a personalized aquatic retreat tailored to their health needs.
A luxury swimming pool is more than just a backyard amenity. A luxury pool can transform your life, increase the value of your house, and improve your mental and physical well-being. A thoughtfully designed pool is an elegant and refined symbol in Oakland County. A luxury pool can be a beautiful centerpiece for entertaining or a tranquil, relaxing space. It is an excellent investment for your home and life. Look at the luxury pools available in Oakland County to experience a life of serenity and luxury.
Key Considerations when Choosing a Luxury Pool Builder
The right builder can make or break your luxury pool. A luxury pool builder with experience and a good reputation can transform your vision into reality and ensure the highest level of craftsmanship and attention. This section will discuss the most critical factors to consider when choosing a luxury pool contractor for your project in Oakland County. These factors, which include experience, expertise, design capabilities, and client satisfaction, will help you find the right builder for your dream pool.
Experience and Expertise
When it comes to creating a luxury swimming pool, experience is vital. Looking for a pool builder with a proven industry track record would be best. Experienced builders have valuable knowledge, technical skills, and problem-solving abilities. They have completed many projects and constantly updated their understanding of the latest construction and industry trends. You can be confident that a pool built by an experienced builder will meet the highest quality standards.
Portfolio and Design Capability: Examples of Past Projects and Design Options
Review the builder's portfolio to see their past projects. Choose a builder whose style and design abilities match your vision for your luxurious pool. Diverse portfolios demonstrate their versatility and the ability to create many different pool styles. It would be best if you also considered the ability of the builder to personalize and customize their designs to meet your preferences and complement your house's architecture.
Customization and Personalization: Tailoring Pools to Individual Preferences
Customization and personalization of every aspect are one of the main advantages of a luxurious pool. Choose a builder that values your input and can understand your needs. A reputable luxury pool builder will work closely with you to create a beautiful pool. They will listen carefully and offer expert advice. Find a builder to create a unique pool and integrate custom lighting, water elements, pool finishes, and landscaping.
Reputation & Client Testimonials: Researching Feedback and Past Clients
A luxury pool builder's reputation is a testimony to their professionalism and workmanship. To gain insight into the track record for client satisfaction, research testimonials, ratings, and reviews. Positive feedback shows the builder delivers exceptional results, communicates effectively, and provides smooth construction. A builder with a good reputation will have many satisfied clients willing to share their positive experiences. Ask for references about the overall satisfaction of the builder.
Licensing & Certifications: Ensuring Compliance with Industry Standards
Ensure the luxury pool contractor you select is licensed, fully insured, and compliant with all applicable permits and regulations. Both you and the pool builder are protected by licensing and insurance throughout the construction process. Certifications from associations like the Association of Pool & Spa Professionals or the National Plasterers Council validate the builder's commitment to professionalism and excellence. Selecting a builder who has the required credentials will ensure that your pool is built to meet industry standards and codes.
Choosing the right luxury pool builder for your dream pool is essential. When deciding, consider factors like experience, design abilities, customization options, and reputation. You can find a builder you trust by researching, looking at portfolios, and talking to references. They will be able to bring your vision to reality with attention to detail and exceptional craftsmanship. A reputable luxury swimming pool builder will add beauty, functionality, and value to your Oakland County house.
Why Choose Sapphire Landscaping, Oakland County's TOP CHOICE?
Sapphire Landscaping is the name that stands out when it comes to building luxurious pools in Oakland County. Sapphire Landscaping's unmatched expertise, flawless craftsmanship, and commitment to creating breathtaking outdoor spaces have earned them a well-deserved renown as the region's top luxury pool builder. Sapphire Landscaping has become the preferred choice of homeowners who want to transform their backyards into an oasis of beauty and luxury.
Experience and Expertise
With over 15 years of experience in this industry, Sapphire Landscaping has developed an unmatched luxury swimming pool construction expertise. Their team is comprised of experts who have a thorough understanding of the design principles, the construction techniques, and the newest trends in the industry. Sapphire Landscaping will handle your luxury pool project with meticulous detail and commitment to excellence from conception to completion.
Unparalleled Design Ability
Sapphire Landscaping is known for creating exceptional pool designs catering to clients' needs and preferences. Sapphire Landscaping can make your dream pool, whether you want a modern oasis with minimalistic features and sleek lines or a traditional design that exudes timeless beauty. The portfolio of Sapphire Landscaping showcases an impressive range of pools, demonstrating their ability to create a bespoke design that complements each client's style.
Customization and Personalization
Sapphire Landscaping's philosophy is based on customization. The company believes a luxury swimming pool should reflect your taste and preferences. The team works closely with you to fully understand your vision and includes your input in the design and construction process. Sapphire Landscaping will customize every detail to meet your preferences. This includes custom lighting, water features, and landscaping.
Customer Satisfaction is Exceptional
Sapphire Landscaping is exceptionally proud of its ability to provide exceptional client satisfaction. They are distinguished from their competitors by their commitment to professionalism and clear communication. Sapphire Landscaping has received praise from previous clients for their attention, transparency, and ability to realize their vision. Sapphire Landscaping's reputation for building solid relationships with clients and exceeding their expectations has helped them become a trusted partner of homeowners in Oakland County looking for the best luxury pools.
When designing a luxury swimming pool that embodies elegance, sophistication, and beauty, Sapphire Landscaping in Oakland County is unsurpassed. They have become the leading luxury pool builders in the area because of their experience, unmatched design capabilities, commitment to customization, and commitment to customer satisfaction. Sapphire Landscaping will ensure that your dream pool is a masterpiece, enhancing your lifestyle and increasing your property's value. Contact Sapphire Landscaping to begin your journey toward the luxury pool you have always wanted.
Local Communities We Service